Cognoscenti Leadership Development
The Cognoscenti programme offers a robust theoretical framework which can be tailored to the development needs of your people, your organisation culture and linked to your strategic aims.
The programme aims to look beyond traditional management and leadership development models and explores the question; how do we manage our organisation and other people well? The Cognoscenti facilitated development programme can help your managers understand what emotionally intelligent leadership looks, and feels like, using real-time and contemporary case studies.
The programme uniquely offers a learning platform based upon a synthesis derived from modern business psychology, commercial modelling, philosophical theory and the world of economics.
The programme is suitable for anyone who manages people within an organisation and values learning the art of managing people well.
Day One – Principles of Emotional Intelligence in Leadership
Understanding relational dynamics within your team.
Building emotional resilience and control.
Increasing self-knowledge Understand how we communicate and how our management style may appear to others.
Exploration of the nuances of company/team cultural dynamics.
Personal motivations.
Day Two – Principles of Philosophy and Psychology in Leadership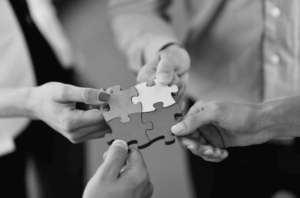 An exploration of ethical considerations in the workplace.
Money, motivation and morals.
Social responsibility.
Individual, community and society.
A psychological and philosophical view of drivers for success and performance in the workplace.
Avoidance of loss/shame/rejection.
Ambiguity, change and challenge positively embracing what lies ahead.
Day Three – Principles of Commerciality in Leadership
Return on investment.
Commerciality of mind and the bottom line.
Human Resources.
Status and recognition.
A look at brand in relation to pride, belonging and pack mentality
Technology.
Continual adaptation to new ways of working
Learning Outcomes
The Cognoscenti Leadership Programme
offers the following benefits for leaders of
the future
Enhanced self-awareness and interpersonal leadership skills.
Increased awareness of the impact of emotional intelligence in leadership.
Ability to understand 'self in the role of leader.
Greater awareness of behavioural and psychological patterns within commercial team dynamics.
Ability to utilise case study material and apply to real time contemporary problem solving.
Contact us today to find out more information and speak to one of our leading specialists. 
The Cognoscenti Programme Team